Managing corrective actions, assignment of responsibilities, and completions across your entire team, as well as multiple ongoing tasks driven by regulations, site operations, and business programs is a time-consuming, cumbersome process.  Without the right tools, organizations find many obligations fall through the cracks, leading to tracking inconsistencies or omissions, missed deadlines, and the inability to spot trends in systematic issues that may cause safety or regulatory concerns.
Create a culture of safety and responsibility by effectively managing corrective actions, tracking ongoing business responsibilities, and establishing an institutional memory of mandatory regulatory tasks with Benchmark Gensuite's action obligation management software.  Centralize all corrective actions across multiple program areas to drive accountability and ownership, easily communicate tasks, set reminders for future obligations, and track items to closure.
Our Integrated Suite of Action Obligation Management Tools

Manage corrective action plans, responsibility assignments, notifications, and escalations with real-time status/closure tracking, trending, and data mining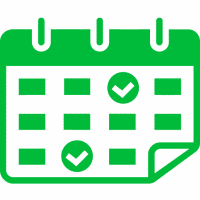 Manage & track compliance action items with ease; maintain visibility on progress toward your initiatives; and ensure future obligations are met.
Purpose-Built to Maximize Your Benefits
Join Our Over 3 Million Users Who Trust Our Action Obligation Management Software
Create Ownership and Accountability
Easily assign corrective action or ongoing site tasks to responsible team members and send automated email notifications and escalations for upcoming and past due items
Rely On an Institutional Memory of Completed Tasks
Quickly identify completed regulatory and organizational assignments and leverage a task library to standardize business-defined activities applicable across the organization
Drive Corrective Actions to Closure
Log and define corrective actions, manage assignments, set due dates, communicate responsibilities, and record subsequent preventative action investigation details, root cause, and efficacy information
Data Mine to Trend for Systematic Issues
Advanced charting and reporting mean you can data mine the compliance status of action items to identify bigger, more systematic issues—to see if program changes are making an impact
See What Our Subscribers are Saying
"What our team likes most about Benchmark Gensuite is that it is one simple tool to manage all EHS and compliance needs, eliminating the use of multiple Excel spreadsheets.  Everything is connected, which makes managing tasks so much easier—for example, you can easily export concerns into Action Tracking System for corrective action tracking."
 – Mary B. | Global EHS Director
Features of Our Action Obligation Management Tools
Assign and manage action items through to closure
Quickly determine team member responsibility and view the status of action items to prevent overdue action items
View trends for systematic problems, performance, and completion status using advanced charting and reporting
Auto-generate email notifications to indicate the status of action items—including upcoming, closed, and past due tasks—at the responsible person, site, and business level
Assign and manage calendar tasks to track organizational obligations, including sub-tasks with separate owners and due dates
Take Your Program to the Next Level with Advanced Tech & AI​
Our Product Stewardship solutions seamlessly integrate with these AI and advanced technologies to increase your insights and maximize your impact.​
Unparalleled real-time collaboration & connectivity at your fingertips to efficiently unify your workforce.​
Receive real-time guidance when inputting incident descriptions to improve data quality.​
Continuously monitor data streams to flag potentially serious occurrences & key risk precursors for unparalleled risk mitigation.​
Explore Our Solution Resources
Explore More of Our Comprehensive Digital EHS Solutions