Leading ESG Reporting Software
The Benchmark ESG Reporting™ Suite
Unlock the power of your ESG and sustainability performance data with our holistic ESG reporting software
Benchmark's digital sustainability and ESG reporting tools empower companies to respond to the investors, stakeholders, and regulators demanding transparent, accurate, timely and verifiable ESG data. With Benchmark's ESG Reporting Tools, you can simplify your process, ensure investment-grade data, and drive business value.
See what people are saying
"Benchmark/Gensuite has contributed mightily to EHS success at Cogentrix over the years and, by extension, to my professional success. In short, your people, products, and services make your customers look good. Thank you! - and your dedicated team - for that."
-Rick Neff
Senior Vice President - Environment, Health, & Safety
Cogentrix Energy Power Management, LLC
"ESG considerations enhance our company by reducing investor risk and enhancing value. It creates a greater level of resilience and output so we can outperform our competitors."
- Herman Baker
Global EHS & Sustainability Director, Carestream
"I am new to Benchmark's solutions and this is the first time in my whole life that I have been so organized. It is very user-friendly and easy to navigate. I cannot wait to explore it further and see what else I can learn and do with this feature."
- Benjamin Taylor
WestRock EHS
The Benefits of Benchmark's ESG Reporting Tools
Seamlessly access analytics data wherever you are via desktop or mobile applications
Derive meaningful insights from complex data with powerful data mining, reporting, and charting capabilities
Identify and act on leading indicators and improvement opportunities in a timely manner
Encourage team-wide collaboration by creating and sharing interactive dashboards and reports through an intuitive interface
Compile and analyze data from single or multiple applications with simple drag-and-drop functions
Ensure every user is equipped with the information most relevant to them through data and layout personalization on the user and organizational level
Benchmark Digital® is a Supporting Member and Partner of These Global Framework and Standard Organizations
Powered by advanced technologies, Benchmark Tech accelerates and delivers digital transformation across every platform. And it's integrated with every Benchmark | Gensuite® subscription.
"What I've found remarkable about this was how easy it was to implement. We went from not having a pSIF or PSI program to having one in place in a very short order utilizing this tool because it makes a lot of the decisions for you."
- Dave Roberts, VP EHS
The HEICO Companies LLC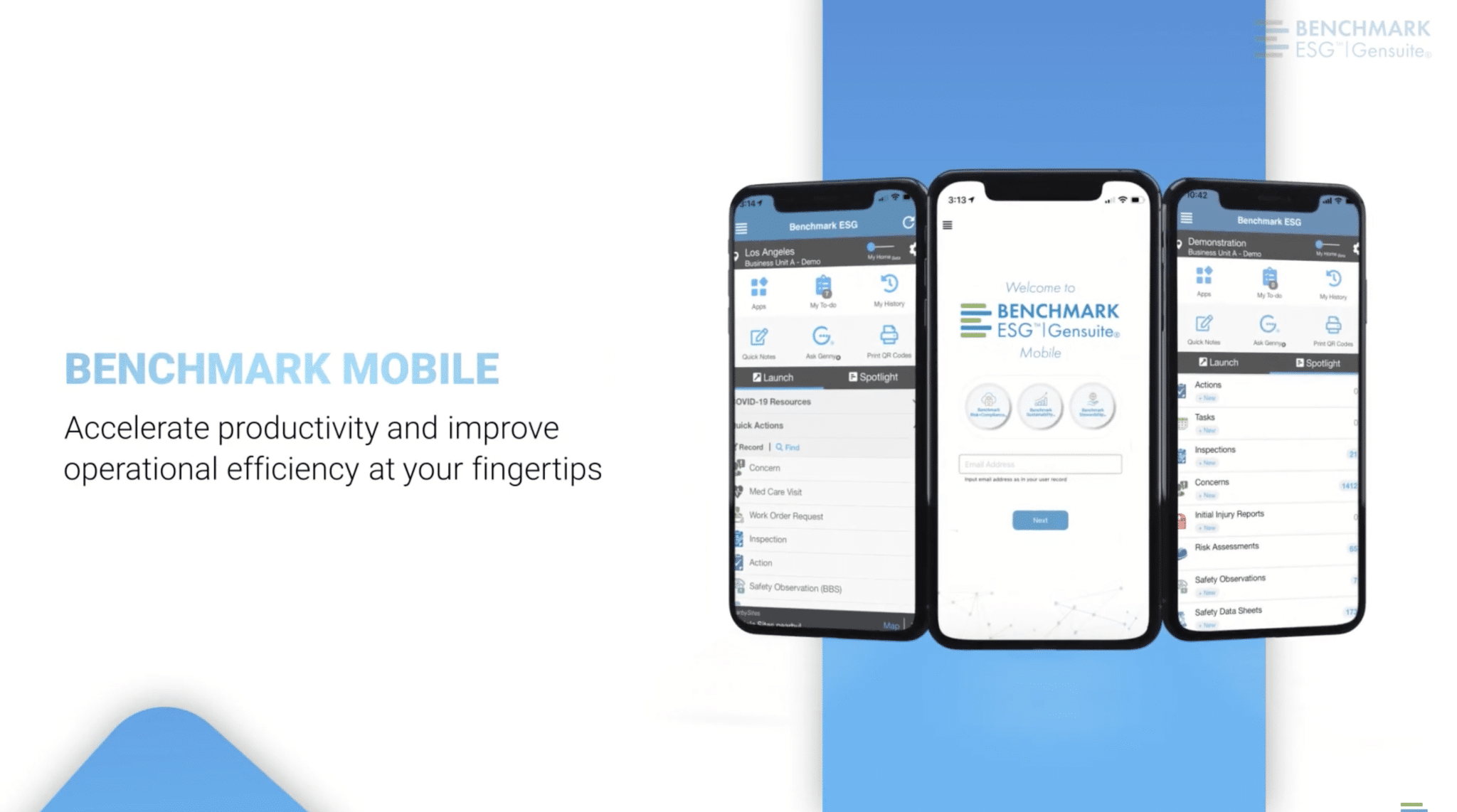 Data Exchange Layer
Configure, adjust and monitor internal and third-party IT system data connections and integrations with Benchmark applications and workflows.
Dashboards & Analytics
Access detailed data and insights to make clear decisions and drive actionable, operational change.
Ask Genny®: Virtual Assistant
Tap, type or speak to Genny to make your EHS & ESG operations more interactive and efficient.
PSI AI Advisor™: Artificial Intelligence
Our AI-powered solutions produce actionable insights and help companies identify and plan for risks.
System Interoperability APIs
Establish direct, efficient and secure data connection between Benchmark applications and external IT systems based on industry standard Application Programming Interface (API) infrastracture.
Explore our other ESG & EHS software solutions
Minimize risk and comply with laws and industry-specific regulations, ISO standards, and corporate policies with our state-of-the-art digital tools for EHS / HSE / SHE compliance.
Advance your company's sustainability performance with unmatched digital solutions that enable easy sustainability tracking, goal setting, reporting, and assessments to reduce climate risk.
Meet your product compliance and responsible sourcing requirements while maintaining supply chain continuity with the help of our product stewardship, global supplier risk, and sustainability digital management tools.
Take your ESG performance to the next level by collecting, using and reporting timely, accurate, complete, and auditable investment grade data with our best-in-class ESG digital management solution.
Ready to join the 3 million users already harnessing EHS & ESG data?
Connect with us for information on our software solutions and unparalleled expertise.